Our Libraries
The Pocahontas County Libraries & Visitor Information Centers serve the residents and visitors of Pocahontas County, West Virginia through the main library (the McClintic Library) in the county seat of Marlinton, and four branches in the communities of Hillsboro, Durbin, Green Bank and Linwood. Pocahontas County is rural and mountainous with approximately 75% of its 940 square miles being either National Forest or State Park land. The libraries are strategically located throughout the county to ensure that the majority of residents can easily access their local library without traversing far.
Your support keeps us going. Thank you.
More About Us
Literacy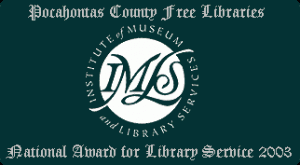 Pocahontas County Libraries & Visitor Information Centers (previously Pocahontas County Free Libraries) was awarded the National Award for Library Service in 2003.
The libraries have over 87,000 physical materials on the shelves; this includes books, dvds, magazines, newspapers, music and audio cds. The libraries also subscribe to an on-line e-book and audio book service, WV Reads, where patrons can download digital books, for free. The libraries have special collections plus rotating displays of art and history at each of the libraries. McClintic and Hillsboro libraries double as the school libraries for the local elementary schools.
A Place to Gather
All of the libraries have meeting room space for community groups, government entities, business organizations, and private events. Additionally, the libraries offer events and activities for all ages. This includes children's story time, summer reading programs, and events such as living history presentations, author signings, movie nights and potlucks. Plus the libraries partner with community organizations to provide opportunities such as art classes, yoga classes, computer classes, and health information.
Visitor Information
The county has many popular tourism attractions including the Snowshoe Ski Resort, the Cass Scenic Railroad, the birthplace of Pearl S. Buck, plus the research and educational facility, The Green Bank Observatory. The libraries partner closely with the county Convention and Visitor's Bureau to be well-stocked with maps and visitor information. The library system actively assists tourism directly as well as helps to create healthy communities in which tourism can flourish.
Technology
All of the libraries have internet broadband service, with some of the fastest speeds in the county and (with the exception of Green Bank) free access to Wi-Fi. The libraries have public computer stations that offer the ability to print, scan, copy and fax. Additionally, the libraries have on-line databases in which patrons can do a variety of research.
"The mission of the Pocahontas County Libraries & Visitor Information Centers is to serve as the principal resource for the informational needs of all the citizens of Pocahontas County and its visitors.
​
Our goals are intellectual stimulation, lifelong learning, cultural enrichment, and recreational reading, by providing inviting environments in our libraries and then reaching into the communities to expand the library beyond its physical boundaries."